I decided to take a trip to Perth over the weekend to meet up with some friends. Hope you guys enjoy this trip report!
Airline: Qantas Airways
Flight No.: QF 485
Routing: Melbourne-Perth
Duration: 3 hrs 30 mns
Scheduled Departure Time: 0835
Actual Departure Time: 0835
Scheduled Arrival Time: 1045
Actual Arrival Time: 1015
Equipment: B737-800
Registration: VH-VZD
It was a wet and gloomy morning at Melbourne Tullamarine Airport
My ride to Perth
Boarding began 20 minutes before departure time and I settled into seat 26F.
In the meantime, ground handlers were busy preparing the aircraft for departure
The flight took off from Runway 16 on time and the dark and gloomy weather became bight and sunny once we cleared the cloud cover
This Qantas Cityflyer service had a 100% load on economy
Seat pitch was a generous 31"
Breakfast was served about 30 minutes into flight with the selection being Sultana Bran or Scrambled Eggs. I choose the Scrambled eggs which came with a sausage, potato cake, sundried tomato, apple slices, and a muffin
With about 2 hours left in the flight I decided to catch up on some assignments from uni
We then proceeded over Western Australia, passing some of the largest mining areas of Australia
As we approached YPPH, the aerodrome was clearly visible thanks to the fine weather
A heavy right bank and we were on the glideslope for a Runway 03 approach
The landing was smooth with speedbrakes and reverse thrust applied
We touched down 30 minutes ahead of schedule thanks to the lack of regular headwind that usually affects this route according to the captain
Ground handlers were quick to service the aircraft to ensure a quick turnaround
After 3 days in Perth it was time to head back to Melbourne.
Airline: Qantas Airways
Flight No.: QF 648
Routing: Perth-Melbourne
Duration: 3 hrs 45 mns
Scheduled Departure Time: 0030
Actual Departure Time: 0035
Scheduled Arrival Time: 0605
Actual Arrival Time: 0615
Equipment: A330-200
Registration: VH-EBJ (Margaret River)
As this was an overnight flight and I did not get a window seat, I did not manage to capture many pictures on board. I was assigned seat 58F, the second last row on board one of Qantas' youngest aircraft, an Airbus A330-200 (Domestic config). The flight was about 75% full and supper was served on board with a choice of beef burgundy or stir fried chicken with rice. Both choices came with a dinner roll, Arnotts crackers and rich cheddar cheese. After supper, I slept through the entire journey till the captain signaled for landing.
Upon arrival in Melbourne, I managed to catch Yanayai Dreaming (sorry for the reflection!)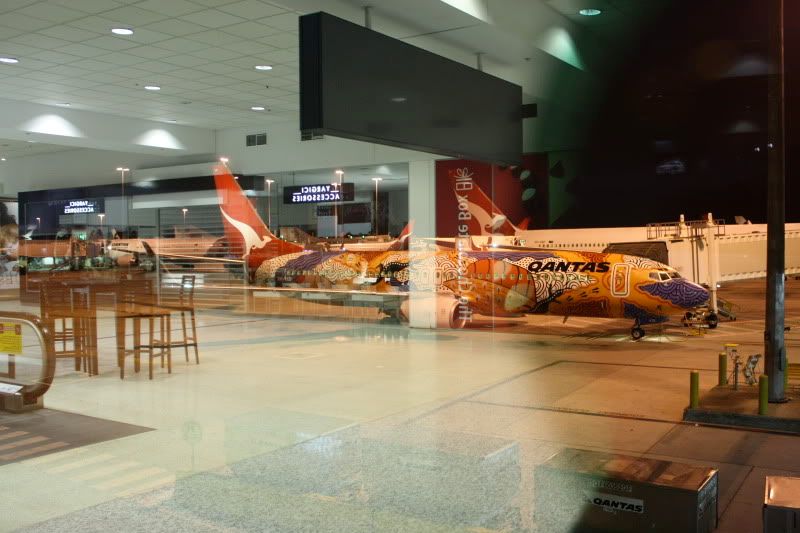 Thanks for reading!